---
Bloomsbury Band Winter Concert: The Seasons Alter
Sat, 2 Dec 2023
A large and enthusiastic audience enjoyed a musical evocation of the seasons at the Bloomsbury Band winter concert conducted by David Morris at St Mary and St George's Lutheran church.. The programme cycled through the seasons.

WINTER
The Frost Song by Henry Purcell
Winter Pastoral by Frank Bridge
Nuages by Madeleine Lahore (clarinet quartet)
Winter by Antonio Vivaldi

SPRING
An den Frühlibg by Edward Grieg
Songs of Springtime by E J Moeran
Im wondershönen Monat Mai by E J Moeran

SUMMER
Summer Wind by Robert Schuman
Summertime by George Gershwin (flute quartet)

AUTUMN
October (from The Seasons) by Pyotr Ilyich Tchaikovsky
Troika Ride (November from The Seasons) by by Pyotr Ilyich Tchaikovsky

WINTER
Wassail (traditional melodies) arranged by Roger Cawkwell
​​​​​​Winter Wonderland by Felix Bernard
---
BWE November 2023 concert: 'Looking Forward'
Sat, 25 Nov 2023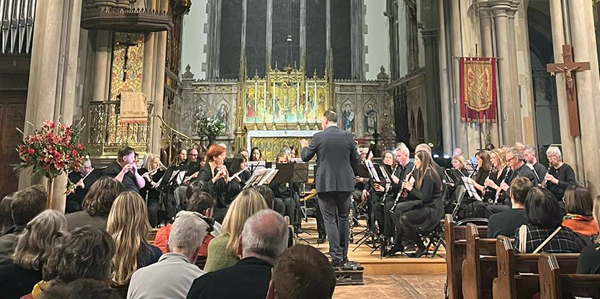 An enthusiastic audience enjoyed BWE's
Looking Forward
concert at St Gabriel's Church, Pimlico. The programme was made up of a variety of contemporarty music including:
Excursion by Patrick Harper
(2014)
Simply the Best by Holly Knight
(1988)
In the First, Spinning Place by Hilary Tann
 (1999)
Microtopia by Bert Appermont
(2020)
Bob-omb Battlefield by Konji Kondo
(1996)
Golden Peak (slow movement) by Thierry Deleruyelle (2019)
Eastern Horizons, (mvmts 1, 4 and 3) by Gareth Trott (2021)
Our guest soloist, Stephen Shepherd, gave a virtuoso performance of the solo part of I
n the First, Spinning Place.
In addition there were two chamber performances played by members of BWE:
Danzas Latinas by Michalis Andronikou for bass clarinet duet (2019)
Carol of the Bells for clarinet quartet by Mykola Leontovych (1914).
---
BB Concert in the Vineyard 2023
Sat, 24 Jun 2023
We had a lovely time performing at Wildwood Vineyard in Kent, owned by our very own clarinetist Paul Oldwood. We played here in 2021 as well and we learned that while the late Spring can certainly get a bit hot, there are always plenty of refreshments on hand to alleviate the heat of the sun (and the members were prepared with plenty of sun hats too!). Our repertoire mostly included crowd pleasers from previous events, though they never appeared all together in this combination before. We also debuted the Wildwood Waltz in its intergalactic premiere, written by our own music director and inspired by our 2021 visit to the Vineyard.
We collected some photos below to provide you with an impression of the summery afternoon, and you can find more on our
Yogile album
.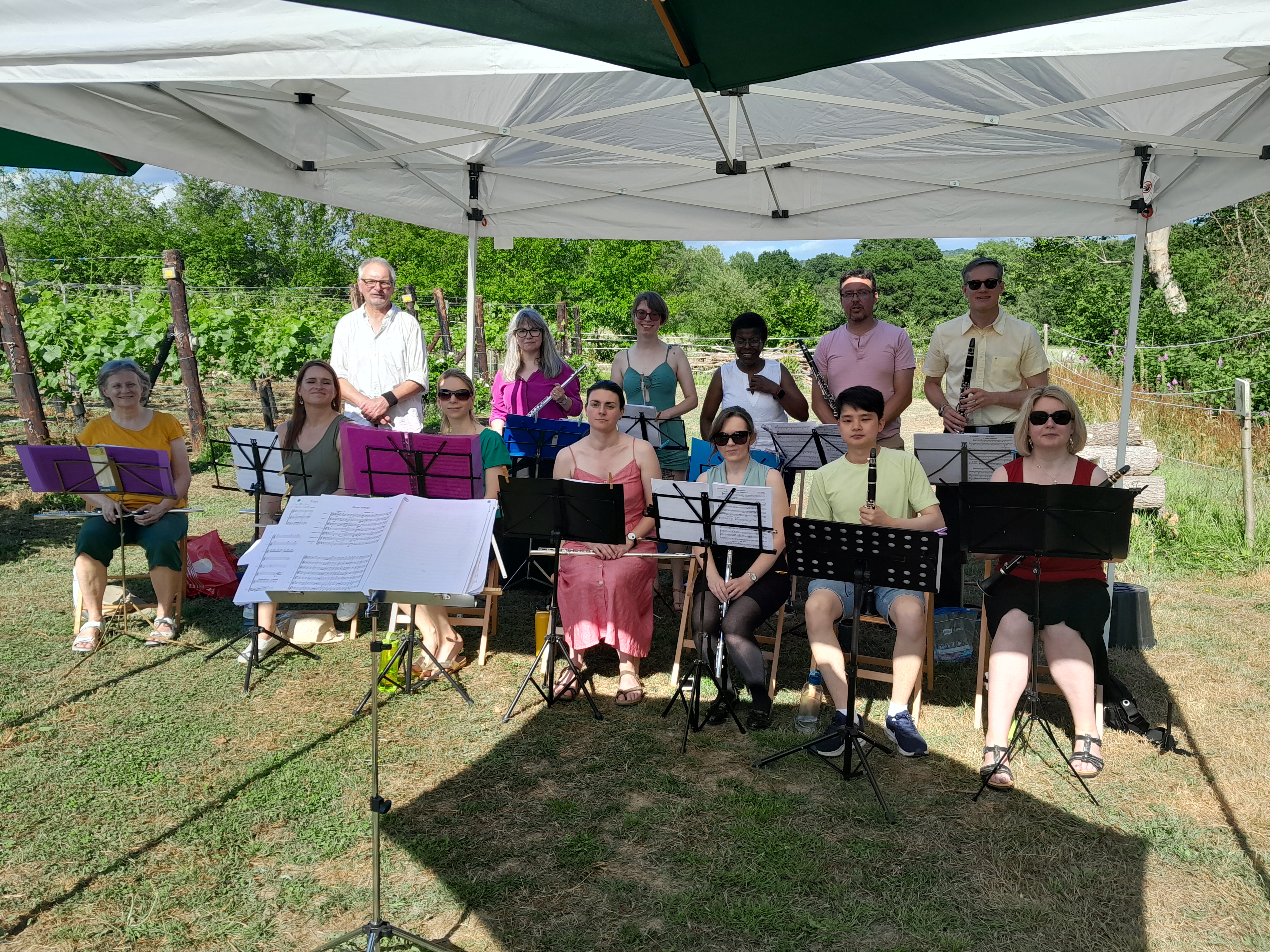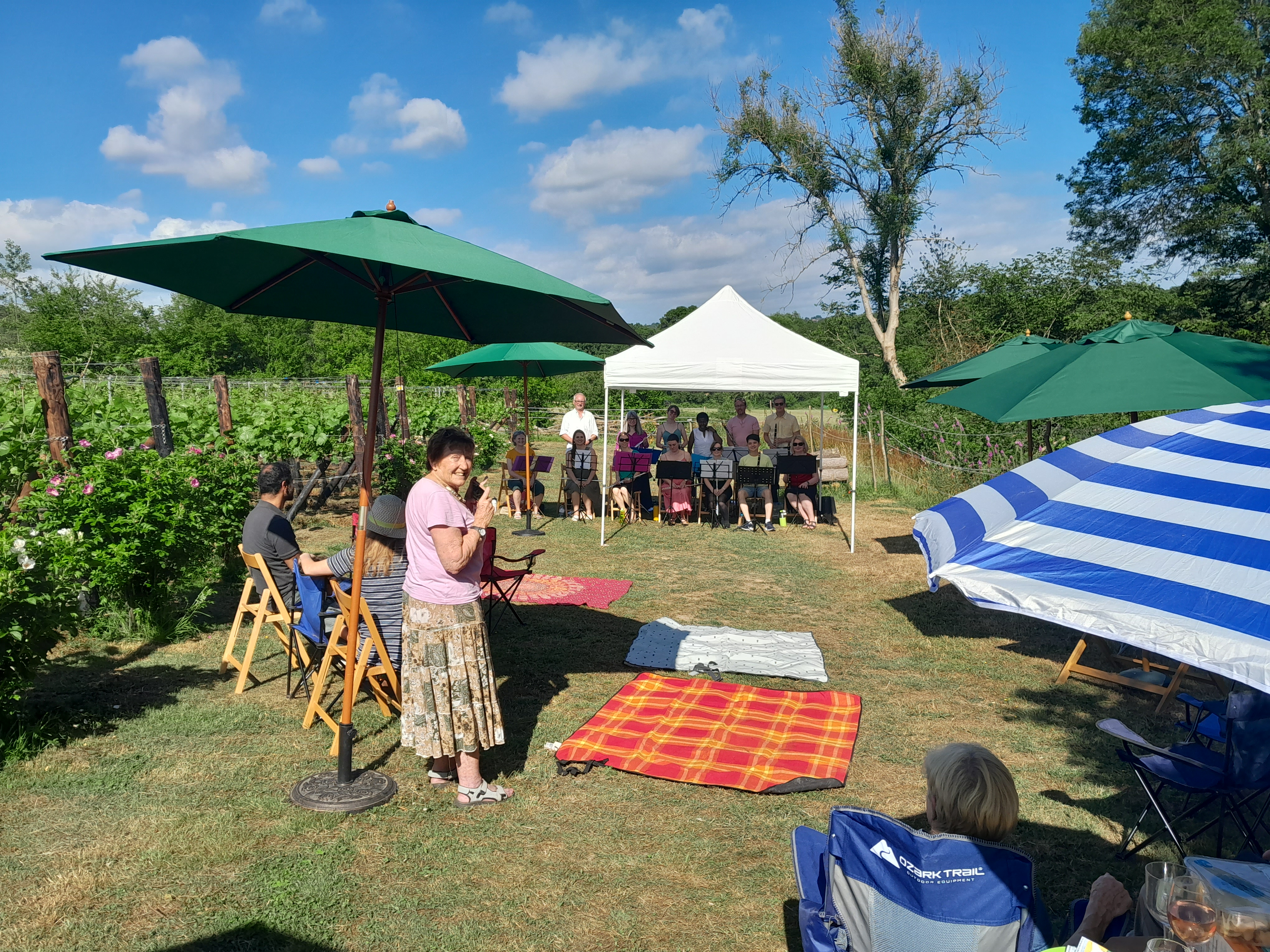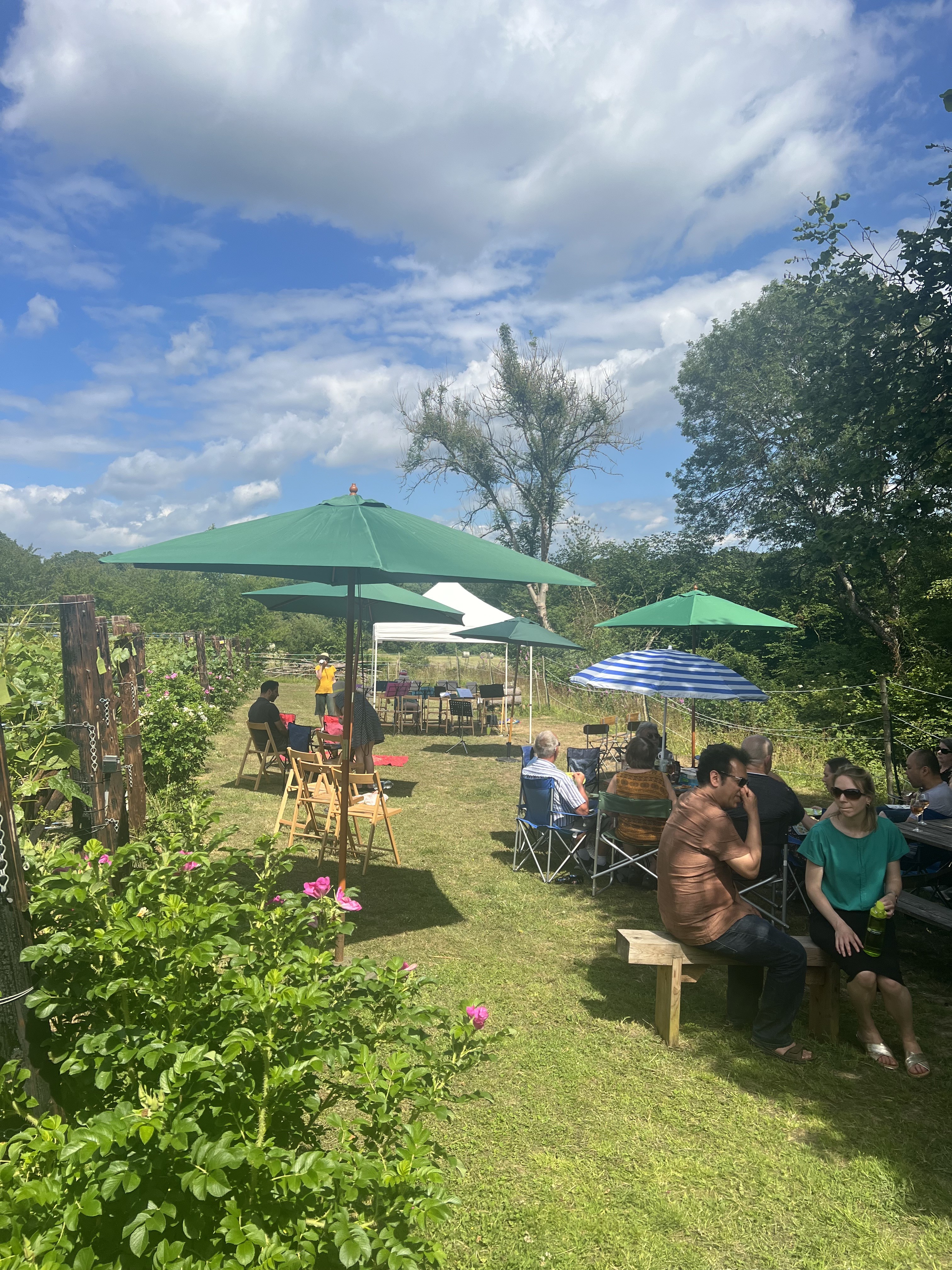 ---
BWE May 2023 concert: 'Looking Back'
Sat, 13 May 2023
As BWE celebrates its 30th anniversary the ensemble performed: a varied and impressive concert at St James's Sussex Gardens. The programme included works commissioned by BWE over the years from 2006 together with others works specially arranged for the ensemble.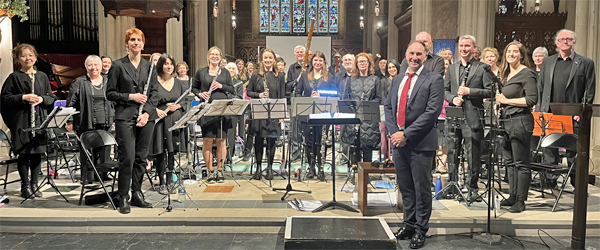 The programme:
Keiron Anderson Alice in Wonderland
Jeffery Wilson Postcards – i. Saba
Judith Bingham Mozart's Pets
Jeffery Wilson Postcards – ii. Duduk
Ruth Young The Zoo Keeper
Jeffery Wilson Postcards – iv. Raga Jhap Tal
Einojuhani Rautavaara Cantus Arcticus
Jeffery Wilson Postcards – iii. Folk Song
Christopher Hussey Twisted Skyscape
Jeffery Wilson Postcards – v. Pavan and Galliard
Martin Ellerby Sinfonia Aqua
Shea Lolin The Infernal Train
We were very pleased that our former director of music, Shea, joined us for the evening because we were looking back over the years when his creativity inspired BWE and led to all this imaginative commissioning.
This was a
charity concert
to support research into dementia by scientists at University College London.
---
BB Spring Concert: New Beginnings
Sat, 25 Mar 2023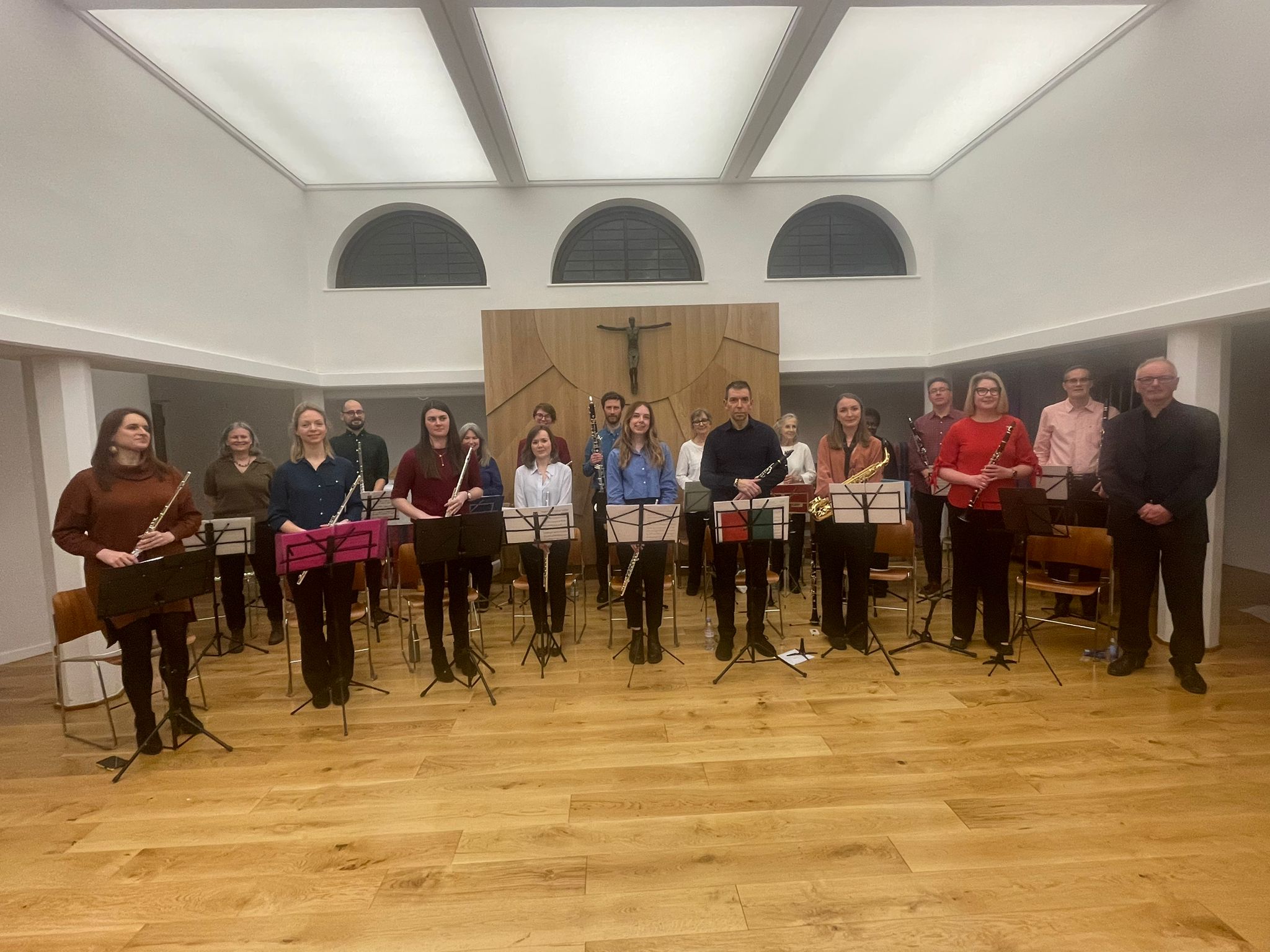 We chose the theme of New Beginnings for our inaugural concert at St. Mary's Church, which was well timed to take place at the start of Spring.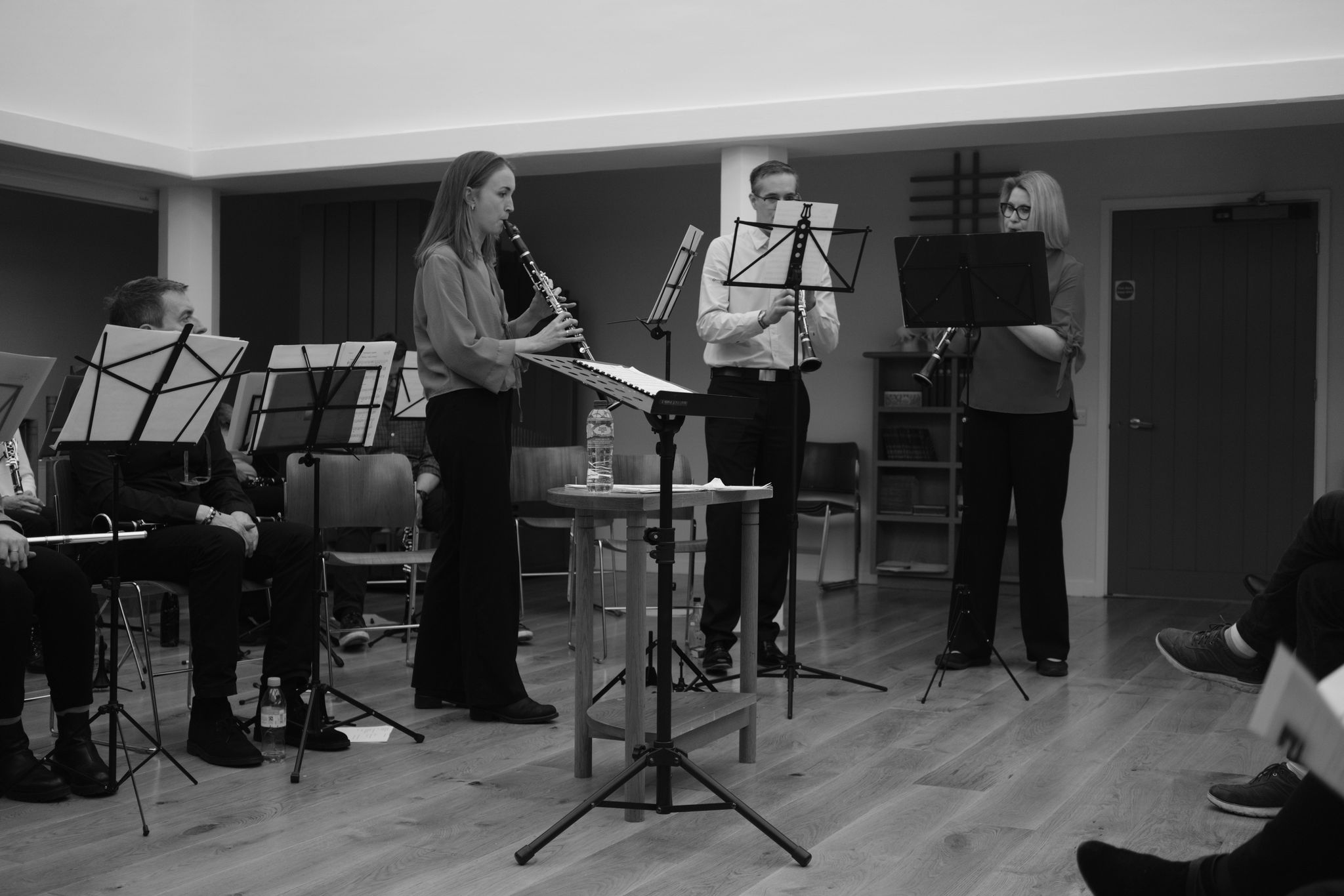 This concert included a number of traditional pieces by European composers such as: Edvard Grieg (The Ravens' Wedding in Kråkalund and three Norwegian Legends), Bedřich Smetana (themes from Vltava / die Moldau), and Percy Grainger (Mo Nighean Dhu and Mock Morris - strictly Not an instruction for the audience to direct at our Music Director David Morris). We also featured music of German origin to honour our new venue (St. Mary's Lutheran Church): Movement 1 from Johann Sebastian Bach's Brandenburg Concerto No.3 and Ludwig von Beethoven's Alla Danza Tedesca.
For a change of pace, we performed Together - a piece specially composed for our band by Jeremy Bridle, which allows the conductor a lot of freedom with no rendition ever being the same. The whole concert was livened up by two ensembles: a flute duet and clarinet trio.
You can find more photos of the concert on our
Yogile page
.
---
BB Winter Concert
Sat, 3 Dec 2022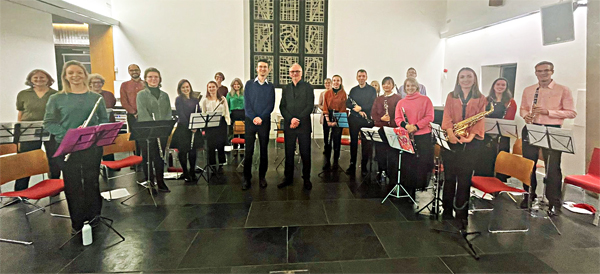 David Morris launched the programme of the Bloomsbury Band's 'Winter Concert' at Lumen with
Fanfare
by Frank Bridge. The programme then featured music by Charlie Pearch (next to David Morris in the image above), Jeremy Bridle and Bizet before being rounded off by a set of short pieces called
First Discoveries
, also by Frank Bridge.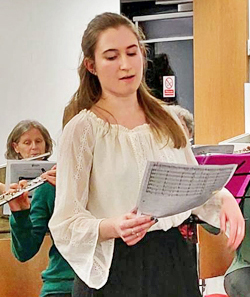 The second half of the programme opened with three works commissioned from Jeremy Bridle by the Alexandra Palace Band London and now arranged for the Band by the composer:
Rush Hour
Waters of the Forest
Together.
Sophie Hopkins (one of the Band's flautists) sang the
Corpus Christi Carol
in an arrangement by David Morris.
Another highlight was
Wassail!
- an arrangement of traditional tunes by Roger Cawkwell who had also arranged the two pieces by Frank Bridge played earlier in the programme.
The concert was brought to a rousing end by Sam Trillwood on saxophone performing the solo in
Troika
from the
Lieutenant Kijé Suite
by Prokofiev. Sam usually plays clarinet in the Band.
---
BWE November Concert: 'Transformations'
Sat, 26 Nov 2022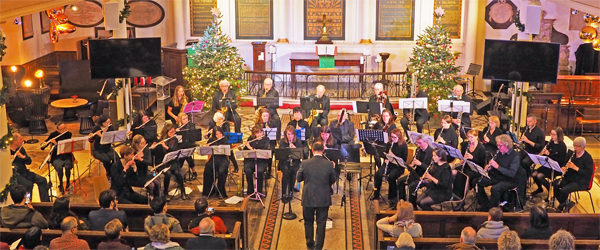 Michael McGowan conducted the performance by BWE of a concert programme entitled '
Transformations'
at the St James, Clerkenwell (see the image above). The appreciative audience enjoyed a programme which included in the first part of the prgramme
Forest Murmurs by Richard Wagner
Nearer My God to Thee by Carl Nielsen
The Chairman Dances by Shea Lolin (bass clarinet with 6 other reed instruments)
Romance from Symphony No. 5 by Ralph Vaughan Williams
Bright Lights by Charlotte Hsrding
After the interval the programme continued with:
Chameleon by Herbie Hancock (played by a group of seven see the image below)
In C Dorian by Frank Tichell
4' 33" by John Cage
Even When He is Silent by Kim Arnesen
November Woods by Arnold Bax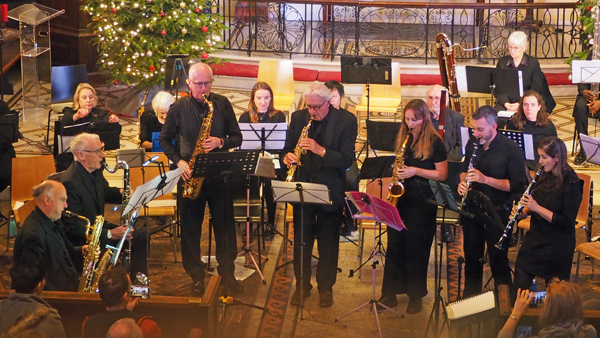 ---
BWE performance in Victoria Park
Sun, 24 Jul 2022
BWE players turned out in strength to perform a very successful concert at Victoria Park on a warm and sunny afternoon afternoon. The music attracted a large audience.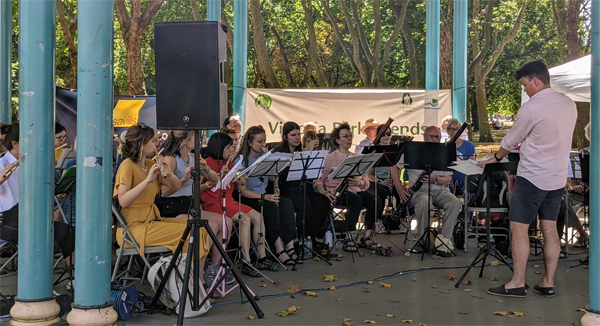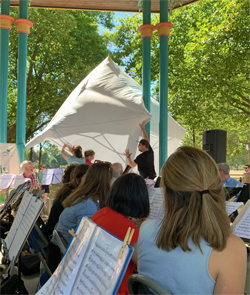 The programme was conducted by Greg Waters who has been rehearsing the ensemble while our director of music is on tour. Greg helped us to put on an entertaining concert based on these items:
Overture for Woodwinds by Philip Sparke
By the Sleepy Lagoon by Eric Coates
Crown Imperial by William Walton
Dance of the Comedians by Bedrich Smetana
Selections from Porgy and Bess by George Gershwin
Tico Tico by Zequinha Abreu
Three Southern Sketches by James Rae
Colonel Bogey by Kenneth Alford
The high winds, were a challenge. Plkayers needed pegs and magnets to stop their music flying away. Play was interrupted when a sudden gust lifted the gazebo from over the public address system to land on the clarinet section.
Volunteers from the audience came to the rescue. The gazebo was reinstated and our performance could continue,
---
Bloomsbury Band 10th Anniversary Concert
Sat, 21 May 2022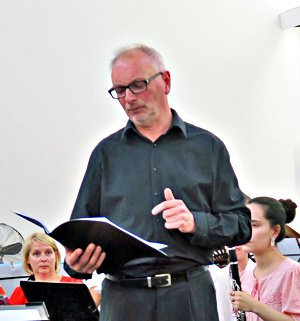 The Bloomsbury Band's tenth anniversary concert should have take place in 2020. This much delayed event finally took place with a programme featuring both new works and favourites from the ensemble's first decade.
The concert was directed by David Morris who set up the ensemble originally and has nurtured it ever since. At this event the current members of the band were joined by former members returning to play as part of the celebration.
David reminisced about key events in the Band's history including notable performances at LSO St Lukes and St John Smith Square. He reflected on what an adventure it had been for a relatively uncommon type of ensemble. Over the ten years, he and the members have enjoyed developing their musicianship, showing remarkable accomplishment and often sharing genuine hilarity..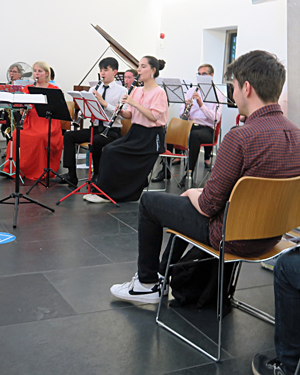 There has been a long tradition of audience participation during Bloomsbury Band concerts. At this event the audience proved willing and able to join in. In the first part of the concert David invited everyone to contribute rhythmic foot percussion during the playing of
Pirates of the Caribbean
.
Then during the playing of an arrangement of
Hung Up
in the second half of the concert the audience sang, in canon, 'Time goes by - so slowly' to accompany playing by the ensemble.
David added variety to the sound worlds created by the ensemble by variously including members playing piano, alto saxophone and percussion instruments.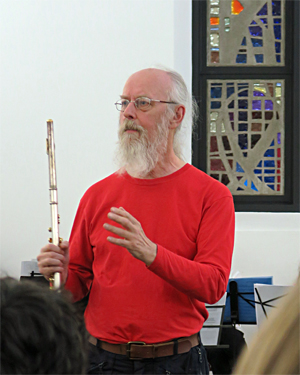 There is little off-the-shelf music tor an advanced flute and clarinet choir., so the Band, over its lifetime, has commissioned over 100 arrangements and nearly 20 original works. A number of the original works have been written by members of the ensemble, but others have been commissioned from composers such as Roger Cawkwell who has been a very good friend of the Band.
Roger arranged two of the items played in the first half of the concert: Overture from Mozart's
Magic Flute
and Gournod's
Marionette's Funeral March
. It was great that Roger was able to be present both to play in some of the pieces but also to explain the inspiration for his new work
Mirror Maze
which received its premiere at this event.
Another work that recevied its premiere at this concert was
Écoutez
by Jenni Pinnock which was played during the first half of the concert.
The second half of the concert included works that were played by the ensemble early in its existences such as
Bad Romance
and
The Banks of Green Willow.
The concert ended. with a lively performance of
Chitty Chitty Bang Bang
.
---
On the Right Track
Sat, 14 May 2022
The audience greatly appreciated BWE's May 2022 concert which was directed for the first time by Michael McGowan, our new director of music.
The programme featured music inspired by, or in some way related to, trains and included
a new composition for BWE by Shea Lolin.
Other works that we played were:
Arthur Honegger Pacific 231
Antonin Dvo?ák Humoresque
Hector Berlioz Le Chant des Chemin de Fer
Percy Grainger Arrival Platform Humlet
James Rae Three Southern Sketches
Richard Rodney Bennett Murder on the Orient Express.
Variety was added to the programme by a performance of Billy Strayhorn's
Take the 'A' Train
by a saxophone quartet plus Michael McGowan on trumpet.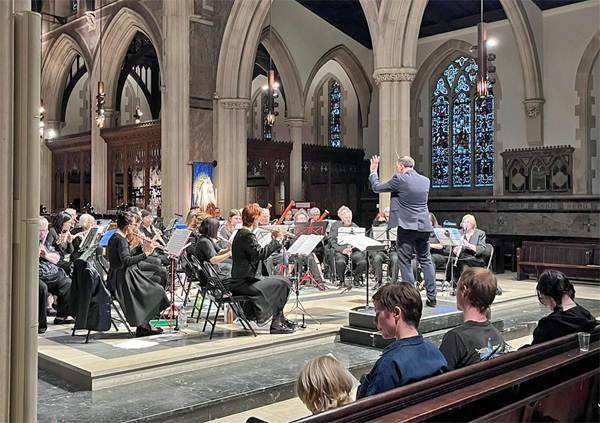 ---
Carols at St Pancras
Fri, 17 Dec 2021

The Eurostar queue stretched out of the station and down the road to the British Library as members of the Bloomsbury Band, with the odd addition from BWE, played a programme of seasonal music to entertain passengers at St Pancras Station.
The programme included familiar Christmas carols as well as
• Quand je Bois
,
• Gaudete
,
• Winter Wonderland
and
• Wassail,
a new arrangement of traditional tunes by Roger Cawkwell.
The aim was to have some fun while raising money for the
Meningitis Research Foundation
. The event raised £300.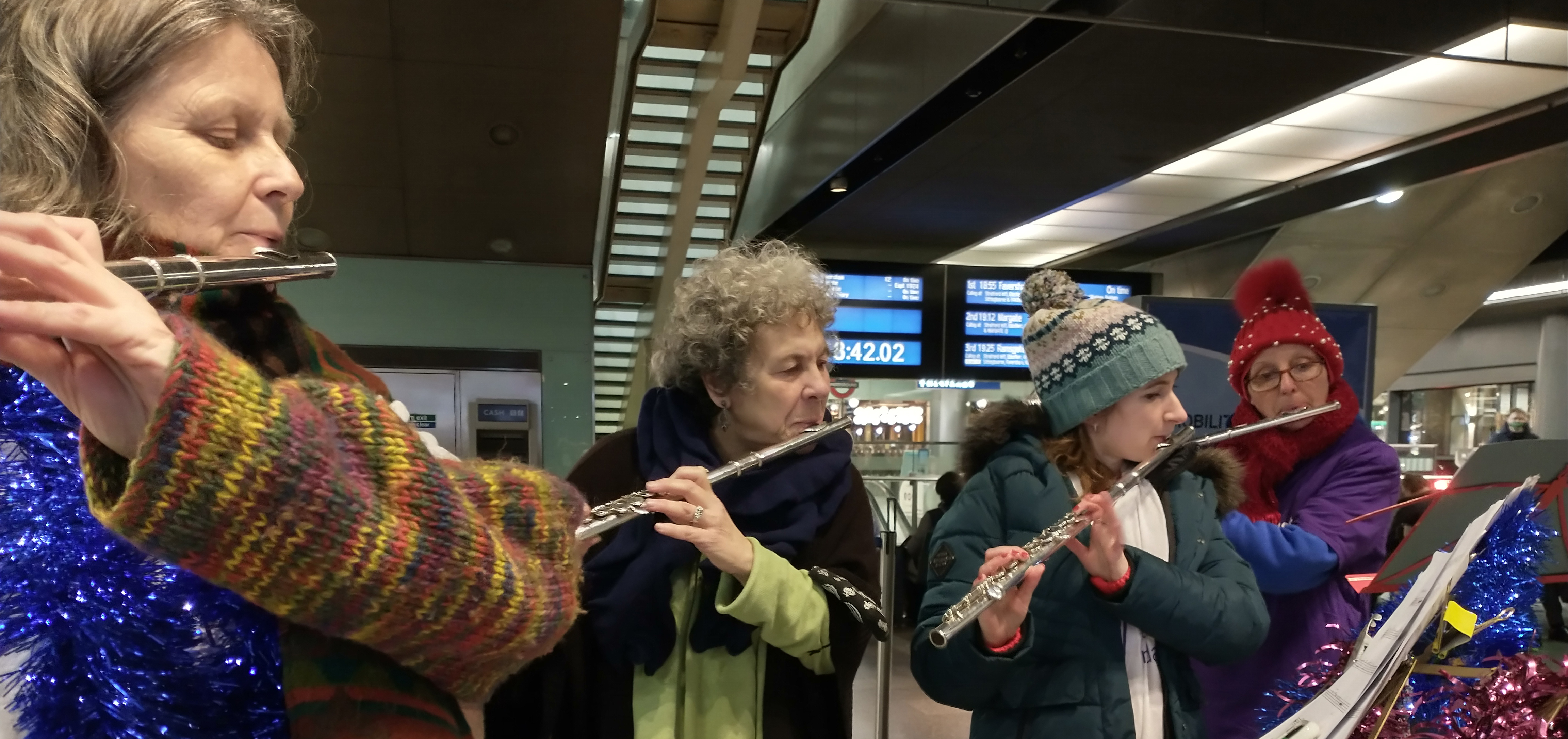 ---
While we were out ...
Sat, 4 Dec 2021
The Bloomsbury Band of Flutes and Clarinets was delighted to welcome a live audience for its first indoor concert for nearly two years.
The programme reflected a defiantly busy and innovative time for the Band and included works by Mozart, Berlioz and, in a major step forward, by several members of Bloomsbury Band themselves.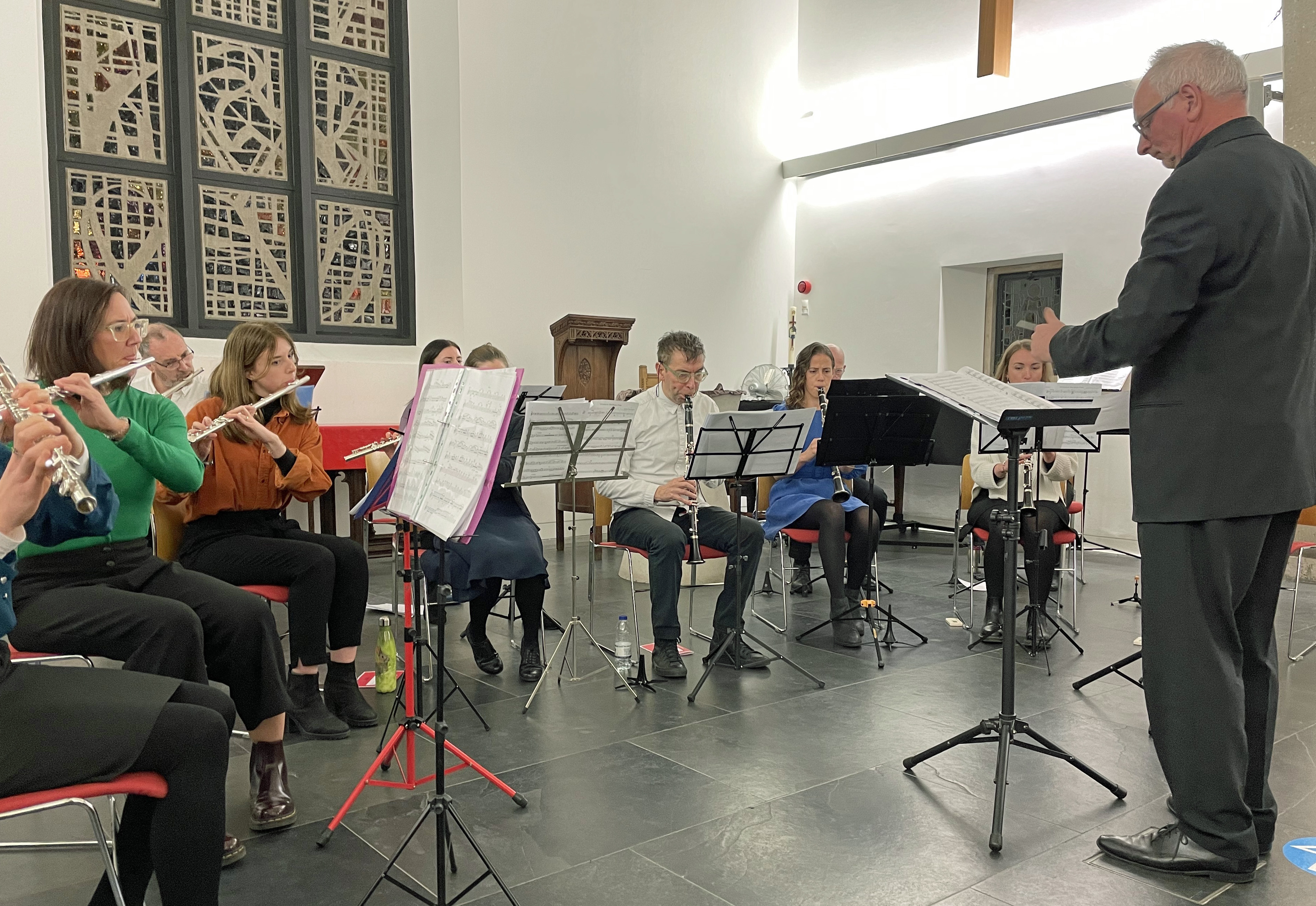 The programme is summarised below. All the full Band items in this evening's concert have been commissioned or created by The Bloomsbury Band of Flutes and Clarinets:
* all single starred items have been composed or arranged by members of the Bloomsbury Band of Flutes and Clarinets;
** All double-starred items are live concert premieres this evening.
Overture from The Magic Flute

Mozart. arr. Roger Cawkwell

Leave her Johnny

Trad. arr. Sarah Beardon *

CollaBBorate

Members of Bloomsbury Band: Katie Mason / Helena Ahlfors / Sarah Beardon / Grace Dargan / Alison Henning / Mathilde de Kerangal / Erica Masala / Sam Trillwood / Chris Woodroofe.

Divertimento from 'Cosi fan tutte'

Mozart, p

erformed by The Baker Street Trio

Chris in Composition **

Chris Woodroofe

*

Rise Again **

David Morris *

Three Movements from Les Nuits d'Ete:




L'Ile Inconnue; Absence; Villanelle **

Berlioz arr. Roger Cawkwell

Soprano: Sophie Hopkins
Voi Che Sapete from The Magic Flute **

Mozart arr. David Morris *

Soprano: Sophie Hopkins

Wildwood Waltz **

David Morris *

Water

Mathilde de Kerangal *

Back Again **

David Morris *
Chris in Composition and Rise Again both employed composed and prerecorded heavy percussion backing tracks played over the PA system.
---
Quotations
Sat, 27 Nov 2021
This Shea's last concert with BWE. The BWE concert featured music inspired by quotations from great countries, cities and literary works.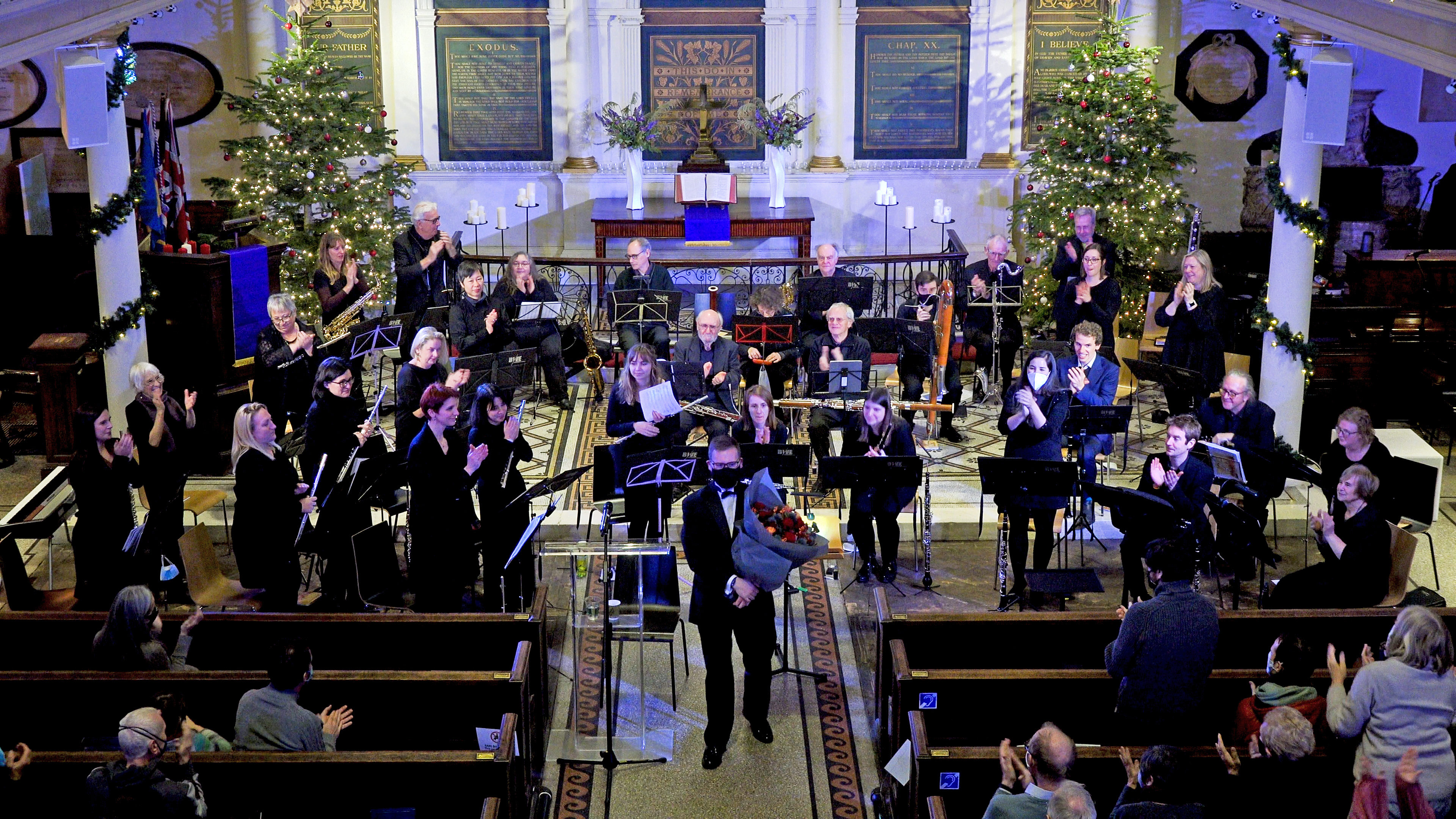 The jewel in the crown of the programme was the world premiere of
Mozart's Pets - a new work by Judith Bingham
commissioned by BWE. The link takes you to a recording of our performance of this work which offers an evocation of the final days of the composer as sensed by his animals. The piece depticts the poignant moment of Mozart's death with the final monologue being left to the canary - as realised by a solo flute.
Programme:
Adam Gorb Bohemian Revelry
Keiron Anderson Alice in Wonderland
Judith Bingham OBE Mozart's Pets
INTERVAL
Martin Ellerby Sinfonia Aqua
Gustav Holst Japanese Suite
Leonard Bernstein West Side Story