BWE players turned out in strength to perform a very successful concert at Victoria Park on a warm and sunny afternoon afternoon. The music attracted a large audience.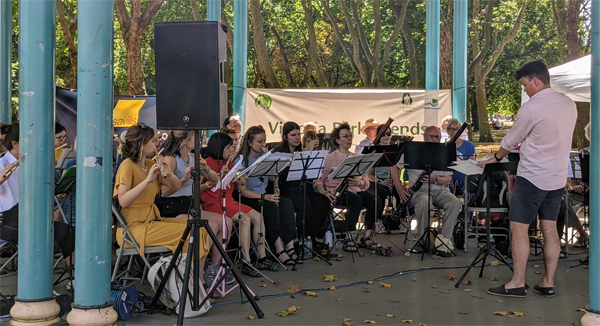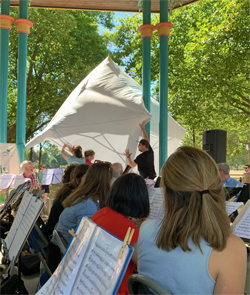 The programme was conducted by Greg Waters who has been rehearsing the ensemble while our director of music is on tour. Greg helped us to put on an entertaining concert based on these items:
Overture for Woodwinds by Philip Sparke
By the Sleepy Lagoon by Eric Coates
Crown Imperial by William Walton
Dance of the Comedians by Bedrich Smetana
Selections from Porgy and Bess by George Gershwin
Tico Tico by Zequinha Abreu
Three Southern Sketches by James Rae
Colonel Bogey by Kenneth Alford
The high winds, were a challenge. Plkayers needed pegs and magnets to stop their music flying away. Play was interrupted when a sudden gust lifted the gazebo from over the public address system to land on the clarinet section.
Volunteers from the audience came to the rescue. The gazebo was reinstated and our performance could continue,