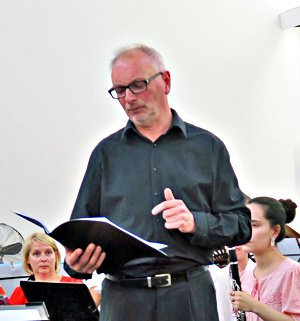 The Bloomsbury Band's tenth anniversary concert should have take place in 2020. This much delayed event finally took place with a programme featuring both new works and favourites from the ensemble's first decade.
The concert was directed by David Morris who set up the ensemble originally and has nurtured it ever since. At this event the current members of the band were joined by former members returning to play as part of the celebration.
David reminisced about key events in the Band's history including notable performances at LSO St Lukes and St John Smith Square. He reflected on what an adventure it had been for a relatively uncommon type of ensemble. Over the ten years, he and the members have enjoyed developing their musicianship, showing remarkable accomplishment and often sharing genuine hilarity..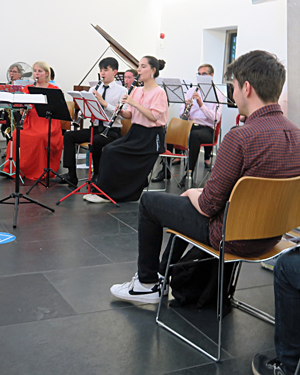 There has been a long tradition of audience participation during Bloomsbury Band concerts. At this event the audience proved willing and able to join in. In the first part of the concert David invited everyone to contribute rhythmic foot percussion during the playing of
Pirates of the Caribbean
.
Then during the playing of an arrangement of
Hung Up
in the second half of the concert the audience sang, in canon, 'Time goes by - so slowly' to accompany playing by the ensemble.
David added variety to the sound worlds created by the ensemble by variously including members playing piano, alto saxophone and percussion instruments.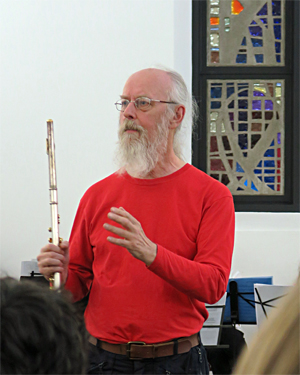 There is little off-the-shelf music tor an advanced flute and clarinet choir., so the Band, over its lifetime, has commissioned over 100 arrangements and nearly 20 original works. A number of the original works have been written by members of the ensemble, but others have been commissioned from composers such as Roger Cawkwell who has been a very good friend of the Band.
Roger arranged two of the items played in the first half of the concert: Overture from Mozart's
Magic Flute
and Gournod's
Marionette's Funeral March
. It was great that Roger was able to be present both to play in some of the pieces but also to explain the inspiration for his new work
Mirror Maze
which received its premiere at this event.
Another work that recevied its premiere at this concert was
Écoutez
by Jenni Pinnock which was played during the first half of the concert.
The second half of the concert included works that were played by the ensemble early in its existences such as
Bad Romance
and
The Banks of Green Willow.
The concert ended. with a lively performance of
Chitty Chitty Bang Bang
.