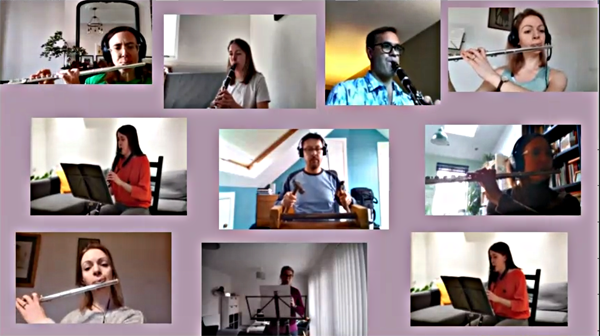 On Saturday 2 May, David Morris, music director, orchestrated an on-line concert to celebrate the tenth anniversary of the Bloomsbury Band. The programme included pre-recorded items skilfully edited together from individual performances in the players' own homes. One example was the Song of the Blacksmith by Gustav Holst (as shown in the image above) with improvised anvil.

Other items were cleverly devised to be played live allowing for the inevitable and variable delays in the sounds experienced when using software such as Zoom. These works included Latent Potential composed by David Morris and Retune devised by Alison Henning to weave together improvisations by members of the Band.

In between the main items in the programme, there was a musical quiz in which audience members were invited to identify the theme tunes of films played by individual members of the band.

There were several duets too, including an Andante from a Teleman Sonata with both parts played by Kiran Barhey. The image below shows Helen Ahlfors and Erica Masala playing Konzertstück, Op. 114 no. 2 by Mendelssohn.





At the end of the concert, members of the audience were invited to join the Band members on screen for a well-deserved round of applause. The Band estimates that between 150 and 200 people were in the audience based on the number of logins to the event, some on behalf of several people. This is a record for the Band. Many attendees - friends and family of the Band - were seeing it perform for the first time, as attending the London concerts is not a possibility. This was particularly special. As a result, the Band will explore ways to livestream future concerts.

This was a charity concert that raised £260 for the Trussell Trust via Just Giving.