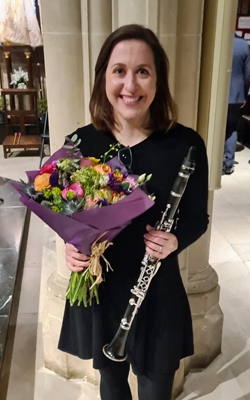 Kim has served brilliantly as BWE's events coordinator for over 10 years. She has sought out great venues for our concerts, such as St James's Church in Sussex Gardens where we performed yesterday.
The smooth running of concerts depends on careful advance planning, attention to many details and the ability to motivate members of the ensemble to contribute so that the work is shared around in manageable ways. Kim has demonstrated all these qualities and more.
Now that Kim is stepping down from the role, we took the opportunity to thank her for all her hard work at the end of another very successful concert. Our chair, Colin, paid tribute to her for all that she has done for us.